Lately, I've really wanted a light blue/sky blue nail polish. I just think it's a perfect shade for summer and spring. But, I've been so indecisive about which one I actually wanted to purchase, because I've been on a budget lately.
This one is the dream polish I want.
Chanel in Riva- about $40
This beautiful sky blue has a white microglitter that is apparently gorgeous in person. I have not seen this in any store, and it retails for about $40, so I will not be purchasing it. But it is so gorgeous!
I've heard that some dupes for it are China Glaze Sea Spray and China Glaze Moody Blue, but they're hard to get your hands on.
Another close dupe for "Riva" is apparently Hard Candy nail polish in Sky. about $6
I've been wanting this polish for quite some time, but always pass on buying it because I've heard that formula is really bad, very thin, gloopy, hard to work with, and that it chips very easily. The bottle is so small for the price too. But it's such a gorgeous color!
The sky blue that I came across sometime last month that started all of this, is Sally Hansen Complete Salon Manicure in Barracuda- About $8
I've seen this one in Wal greens and Target, but keep passing it up because I really hated this formula. The only Complete Salon Manicure I've tried, I hated it so much, that I actually returned it. (It was in "Sequin Scandal" I hated the way the formula applied, the way it dried- it was awful! It looked so bad. The brush was hard to work with- just a disaster!) Plus this retails for about $8-which I find expensive for drugstore polishes.
And then comes the cult favorite, China Glaze For Audrey- About $7
But this one is a little too teal for what I'm going for. Apparently a dupe of the copyrighted shade of Tiffany Co. Blue, this one is very pretty though!
In Sally's Beauty Supply, I recently saw Finger Paints Tiffany Imposter- About $6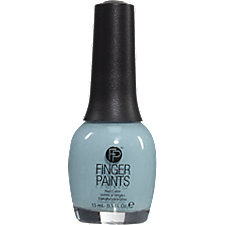 Which I guess is a dupe for For Audrey? Still a little too teal though.
Then I heard about OPI's What's With The Cattitude from The Shrek Collection- About $9
Which seems absolutely what I'm looking for- but apparently it also goes on the hard to come across list.
Then, I think I found the one I'm going to buy. Sally Hansen Insta-Dri in Blue Away- About $5
$5 seems like a good deal to get a blue polish that I've really been wanting. I read some reviews about this online, and this one seems to be the best fit for me. Relatively cheap, quick drying, and beautifully sky blue and opaque. I've looked for this in Wal Mart the past few times I've been there, because Sally Hansen polishes seem to be the cheapest at Wal Mart, but they haven't had this shade. So I'll most likely be on the prowl for this at drugstores for the next few days.
The Sally Hansen Complete Salon Manicure in Barracuda and Hard Candy in Sky were the first two I saw and contemplated buying for some time. While in my local Dollar Tree, I came across what seemed like the perfect dupe for Barracuda- except it was in a really strange packaging, that included a nail file in the cap, and the brand was called "Mini Divas." and the color called "Star." I figured for $1, it couldn't hurt to try it, right? Well- it turned out to be this little kid type polish that was as sheer as water, basically. So, I may have to invest in one of these polishes after all, if I can't get this formula to look good after a white base and a few coats.
Which one would you decide to purchase?
Do you own any of these polishes?